Create Space is a weekly scheduled Zoom workshop series to encourage you to take time for yourself, tap into your creative joy, make new connections, and to just enjoy being immersed in a creative process.
The unique 8 week series is an open studio experience that invites you to bring-your-own projects (BYOP) to the workshops each week. This concept provides a fun, simple, and sustainable way to connect and commune creatively with others, while also offering flexibility and freedom for you work on your own art, craft, or project of choice, at your own pace, in real time. 
This is your chance to carve out time for YOU this summer and enjoy the benefits of doing something creative for YOU in the company of a caring community of others doing the same! Doesn't that sound wonderful?

Taking time for you
Getting inspired
Connecting with friends
Feeling supported
Exploring creative expression
Enjoying summer
Rediscovering yourself
Sharing thoughts and ideas
Being encouraged
Making stuff
Working on a project
Establishing a creative practice
Tapping into joy
Welcoming play
Feeling energized
Having fun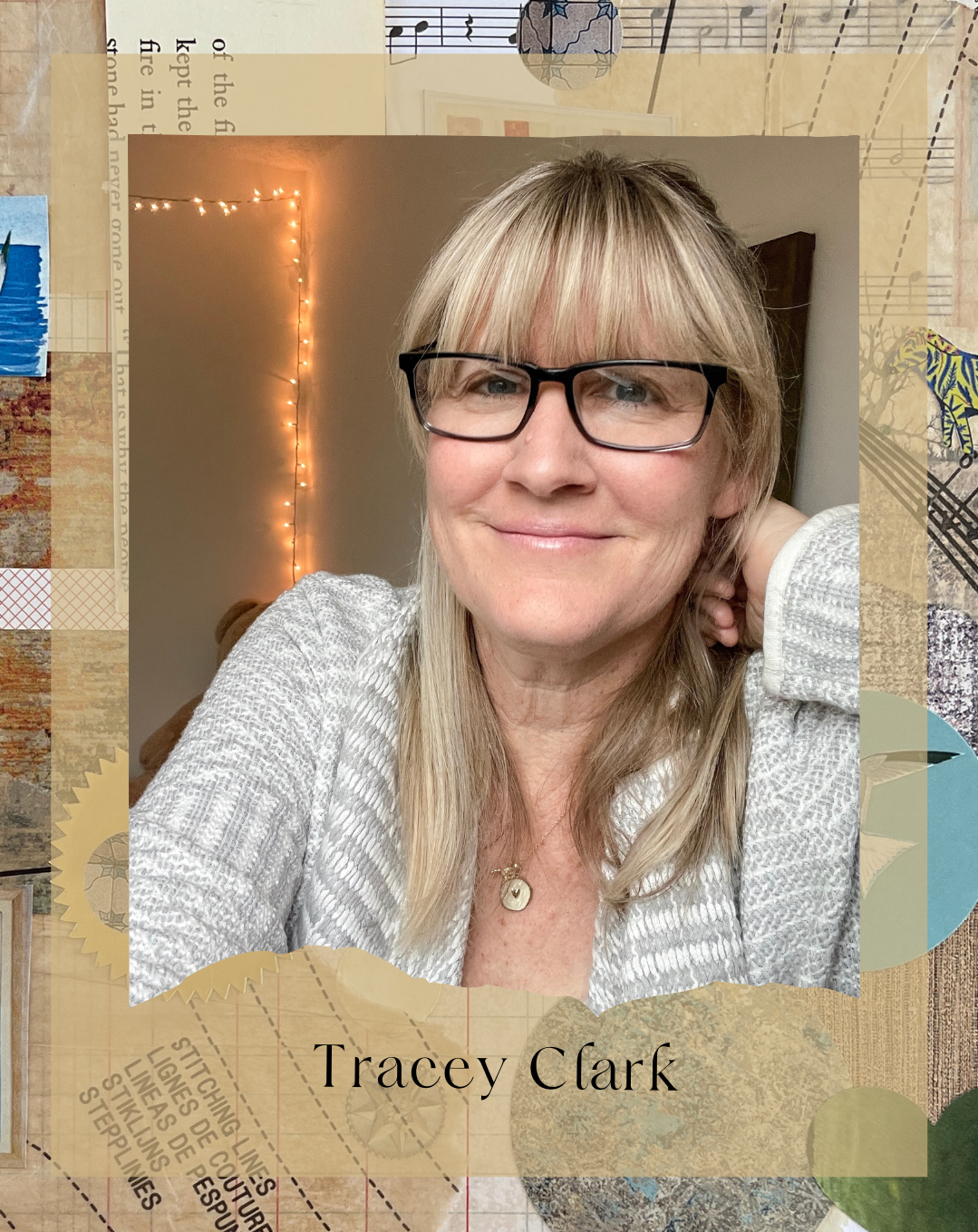 Hi! Thank you for your interest in Create Space. I'm Tracey Clark, photographer, writer, and founder of The Picture Series online classes and eBooks. The idea for Create Space was born out of a love and appreciation for sharing all things creative via Zoom. The connections and creativity that blossomed from the Zoom element of my most recent classes Groundwork & Envision were so exciting and inspiring that Create Space felt like an ideal next step.
The structure of this open studio offering will allow for everyone to explore their own creative interests and ideas "in real time" alongside others doing the same. We'll each work at our own pace as we share thoughts, ideas, our process, and our progress in a refreshingly nurturing and encouraging virtual environment. The maintainable weekly meeting times will allow for an unhurried, relaxing rhythm for our carved out, collective creative time. I'm so looking forward to sharing space and time like this together and I hope you join me in Create Space.
For more about me, you can visit my website or find me on Instagram where I share my images and my heart.
xo tracey
P.S. Not sure what direction you'd take for Create Space?See the list below to help spark some ideas and inspiration for you!


Because this series is built around an open studio concept and there will be no curriculum to follow, you are encouraged from the start to use the weekly workshop creative time in any way that feels good to you. Remember, it's a BYOP (Bring Your Own Project) opportunity!
Here are some suggestions for how you can approach the 8 weeks of Create Space:
Continue to cultivate your creative practice (do more of any creative work makes you happy)
Explore in creative play (entertain new ideas, no pressure around any outcome)
Try a new technique (you have permission to just try it for fun)
Begin a new project (go for it)
Finish up an old project (completion can feel amazing)
Pick up where you left off (from whenever, wherever you left off)
Come back to creativity (even if it's been a while)
Dabble in different things (no agenda or expectations necessary)
Get into a groove (find a weekly rhythm to regulate your process)
Make a mess (it can be fun)
Get organized (it can feel great and clear your head)
Ask questions (curiosity is the key to creativity)
Make new friends (connecting through creativity is awesome)
Get feedback (new perspectives are good)
Seek support (that's what community is about)
Ask for guidance (the wisdom of others can be helpful)
Share ideas (your thoughts and insights are valuable to others)
Enjoy the community (you have permission to just "be")
Just show up (and see where that leads)


The 8 weeks of this Create Space Workshop Series will run from Tuesday, June 7th through Thursday, July 28th.

ZOOM WORKSHOPS will be hosted on THURSDAYS at 9:30-10:30AM PST & 5:30-6:30PM PST.
Workshop dates are as follows: 6/9, 6/16, 6/23, 6/30, 7/7, 7/14, 7/21, & 7/2.

The series will officially begin with the opening of the online classroom on Tuesday, June 7th. The "Getting Started" content & workshop information will be available there on the start date.
The first Zoom Workshop date will be on Thursday, June 9th. There will be TWO available time slots to choose from on each workshop day (to accommodate different time zones & availability). The times will be 9:30-10:30AM PST or 5:30-6:30PM PST. You may attend one or both each week! This same schedule will run every THURSDAY from June 7th through July 28th. Each workshop is an hour in length. If you miss a workshop for any reason, they will be recorded and shared in the classroom so you can revisit at your convenience.
Although Create Space is an Open Studio workshop where every participant brings their own art, craft, and/or project, there will be a classroom available for connecting throughout the weeks of the workshop, inbetween Zoom meetings. This will allow for more connection, conversation and sharing throughout our time together. I will be adding weekly inspiration in the classroom to further facilitate cretive expansion above and beyond our Zoom meetings. The community of Create Space will be one of the greatest rewards of our time together. Don't miss your chance to spend some time doing something for YOU this summer! You deserve it!
Is Create Space a class with instruction?
Not in the traditional sense. It is an open studio Zoom workshop, where you will bring your own art, craft, or project to the workshops so that you can work on something YOU want to work on, while others do the same. There will be opportunities for conversations, exploration, and sharing during the workshops as we all work together on our individual projects. I will facilitate our interactions each week to foster a community of inspiration and encouragement. Think of this as a creative co-working experience!
Do I need to know beforehand what project I will work on during the workshops?
If you have a creative medium you want to bring, that's great! But if you don't know what or how to choose or where to start, you can figure that out as you go! When the classroom opens on June 7th, there will be some ideas for "getting started" but know that the first Zoom workshop will be an opportunity to spark ideas and inspirations that will help you make some fun, creative decisions for yourself and how you'll want to spend your workshop time! In other words, all you need to do is show up!
What do I need to bring for the first Zoom workshop?
You are welcome to bring any art, craft, or project supplies to the first workshop and dive into whatever you want to work on! But don't feel pressure to do so. You can just come to the workshop to connect with others and glean from the community as you decide what you'd like to explore and/or accomplish during our time together.
What if I have to miss a workshop date?
Although each workshop date will have a morning AND an evening option (you can attend one or both), there may be dates you'll have to miss. I will record the sessions and post them in the classroom if you'd like to catch up. Although there won't be "lessons", the interactions, sharing, and conversations each week will be enlightening and inspiring so know that you can always rewatch/relisten to anything you may have missed.
Are there refunds?
If for any reason you need to withdraw from Create Space before we begin or soon after the first workshop date, a refund will be available, yes.
What if I have more questions?
Please email me at [email protected]. I'm happy to help in any way I can!