Create Space is a weekly scheduled Zoom workshop series to encourage you to take time for yourself, tap into your creative joy, make new connections, and to just enjoy being immersed in a creative process.
Hosted by Tracey Clark, this unique 8 week series is an open studio experience that invites you to bring-your-own projects (BYOP) to the workshops each week. This format provides a fun, simple, and sustainable way to connect and commune creatively with others, while also offering flexibility and freedom for you work on your own art, craft, or project of choice, at your own pace, in real time. 
This is your chance to carve out time for YOU this spring and enjoy the benefits of doing something (anything) creative in the company of a caring community of others doing the same! No pressure, no expectations, no deadlines; just TIME for creative play and exploration.
Doesn't that sound wonderful?

Taking time for you
Getting inspired
Connecting with friends
Feeling supported
Exploring creative expression
Enjoying spring
Rediscovering yourself
Sharing thoughts and ideas
Being encouraged
Making stuff
Working on a project
Establishing a creative practice
Tapping into joy
Welcoming play
Feeling energized
Having fun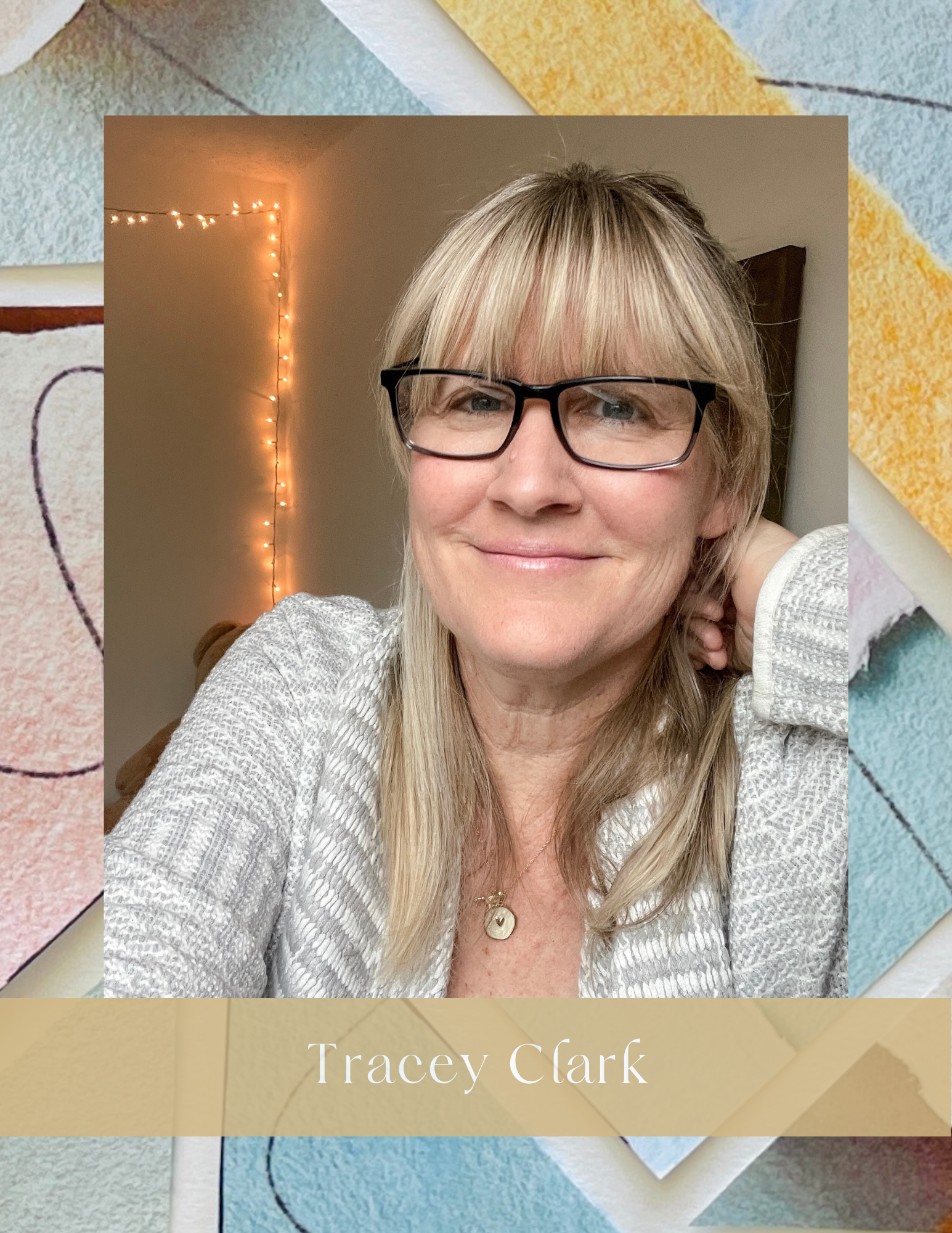 Hi! Thank you for your interest in Create Space. I'm Tracey Clark, photographer, writer, and founder of The Picture Series online classes and eBooks. The idea for Create Space was born out of a love and appreciation for sharing all things creative and my passion for gathering amazing people together. Experimenting with a Zoom offering last year revealed a beautiful opportunity to bring women together to co-create and connect and it's been nothing short of amazing ever since! It's time now to open up a new session of Create Space!
The structure of this open studio offering will allow for everyone to explore their own creative interests and ideas "in real time" alongside others doing the same. The weekly meeting times will allow for an unhurried, relaxing rhythm for our carved out, collective creative time. Sharing space and time like this together is, in a word, magic and I am eagerly anticipating this spring session of Create Space.
For more about me, you can visit my website or find me on Instagram where I share my images, my videos, and my heart.
xo tracey

Because this series is built around an open studio concept and there will be no curriculum to follow, you are encouraged from the start to use the weekly workshop creative time in any way that feels good to you. Remember, it's a BYOP (Bring Your Own Project) opportunity!
Here are some suggestions for how you can approach the 8 weeks of Create Space:
Continue to cultivate your creative practice (do more of any creative work makes you happy)
Explore in creative play (entertain new ideas, no pressure around any outcome)
Try a new technique (you have permission to just try it for fun)
Begin a new project (go for it)
Finish up an old project (completion can feel amazing)
Pick up where you left off (from whenever, wherever you left off)
Come back to creativity (even if it's been a while)
Dabble in different things (no agenda or expectations necessary)
Get into a groove (find a weekly rhythm to regulate your process)
Make a mess (it can be fun)
Get organized (it can feel great and clear your head)
Ask questions (curiosity is the key to creativity)
Make new friends (connecting through creativity is awesome)
Get feedback (new perspectives are good)
Seek support (that's what community is about)
Ask for guidance (the wisdom of others can be helpful)
Share ideas (your thoughts and insights are valuable to others)
Enjoy the community (you have permission to just "be")
Just show up (and see where that leads)

"The zoom sessions are the heart and soul of this project. They are amazing! I was hooked from the start and participated in all of them, even the ones that were in the middle of the night in my time-zone. Because even when i felt down, or tired or totally uninspired i always managed to take away new ideas, new techniques to try out or new perspectives on my own art. Can't wait for the next installment!" - Chris
"My fear almost kept me from signing up, but I wanted to take a chance and give some attention to my art, to allow some room for creativity. I don't know what the alchemy is that allows complete strangers to become friends in a virtual setting. It's more than time and a willingness to share, it's truly Tracey and her talents and skill as a teacher. I would sign up for any class that she offered knowing that by the end I would be grateful for our time together and everything that I had created." -Beth
Working with Tracey and spending dedicated time learning about and working on my collages with a wonderful group of talented artists in Create Space helped me find my passion and has given me a much needed creative outlet that has truly enhanced my life. - Mayson
"Create Space was a workshop filled with inspiration and creativity, a time for diving into projects I would never even have thought of trying out on my own, a time for exploring diverse mediums, exchanging experiences and thoughts, and having fun with a wonderful and encouraging group of like-minded people under the supportive and inspiring guidance of Tracey Clark." -Rosie


The 8 weeks of this Create Space Workshop Series will run from Thursday, April 6th through Thursday, May 30th.

ZOOM WORKSHOPS will be hosted on THURSDAYS* at 9:00-10:30AM PST & 5:00-6:30PM PST.
Workshop dates are as follows: 4/6, 4/13, 4/20,
*4/26 (Please note, this one date is a Wednesday),
5/4, 5/11, 5/18, & 5/25.

The classroom will open up on Tuesday, April 4th and all workshop information will be available, including Zoom links.


As listed, the first Zoom Workshop date will be on Thursday, April 6th. Sessions will run for 1 and 1/2 hours each. There will be TWO available time slots to choose from on each workshop day (to accommodate different time zones & availability). The times will be 9:00-10:30AM PST or 5:00-6:30PM PST. Although the AM and PM sessions will allow for some back and forth, I ask that you choose either AM or PM just so I can keep the group at a managable amount. This same schedule will run every THURSDAY from April 6th through May 25th. With the exception of April 26th (which is a Wed, not a Thursday) Because this workshop is intended to be a time to actively working on your creative outlet of choice, I've allocated an hour and a half so we have time for check ins and creative work time. If you miss a workshop for any reason, they will be recorded and shared in the classroom so you can revisit at your convenience.
Although Create Space is a mainly an Open Studio Workshop where every participant brings their own art, craft, and/or project, there will be a classroom available for connecting throughout the weeks of the workshop, in between Zoom meetings. This will allow for more connection, conversation, and sharing throughout our time together. The community of Create Space will be an invalueable benefit of our time together. The groups that gather for my offering are always encouraging and inspiring! Don't miss your chance to spend some time doing something for YOU this spring. Allow your creativity to blossom along with the season! You deserve it!
Is Create Space a class with instruction?
There will not be any technical instruction in Create Space. Instead, it is an open studio Zoom workshop, where you will bring your own art, craft, or project to the workshops so that you can work on something YOU want to work on, while others do the same. There will be opportunities for conversations, exploration, and sharing during the workshops as we all work together on our individual projects. I will facilitate our interactions each week to foster a community of inspiration and encouragement. Think of this as a creative co-working experience!
Do I need to know beforehand what project I will work on during the workshops?
If you have a creative medium you want to bring, that's great! But if you don't know what or how to choose or where to start, you can figure that out as you go! When the classroom opens on April 4th, there will be some ideas for "getting started" but know that the first Zoom workshop will be an opportunity to spark ideas and inspirations that will help you make some fun, creative decisions for yourself and how you'll want to spend your workshop time! In other words, all you need to do is show up!
What do I need to bring for the first Zoom workshop?
You are welcome to bring any art, craft, or project supplies to the first workshop and dive into whatever you want to work on! But don't feel pressure to do so. You can just come to the workshop to connect and glean ideas from what others are doing as you decide what you'd like to explore and/or accomplish during our time together.
What if I have to miss a workshop date?
Although each workshop date will have a morning AND an evening option (you can fluxuate between AM and PM if attendance numbers allow) there may be dates you'll have to miss. I will record the sessions and post them in the classroom if you'd like to catch up. Although there won't be "lessons", the interactions, sharing, and conversations each week will be enlightening and inspiring so know that you can always rewatch/relisten to anything you may have missed.
Are there refunds?
If for any reason you need to withdraw from Create Space before we begin or soon after the first workshop date, a refund will be available, yes.
What if I have more questions?
Please email me at [email protected]. I'm happy to help in any way I can!